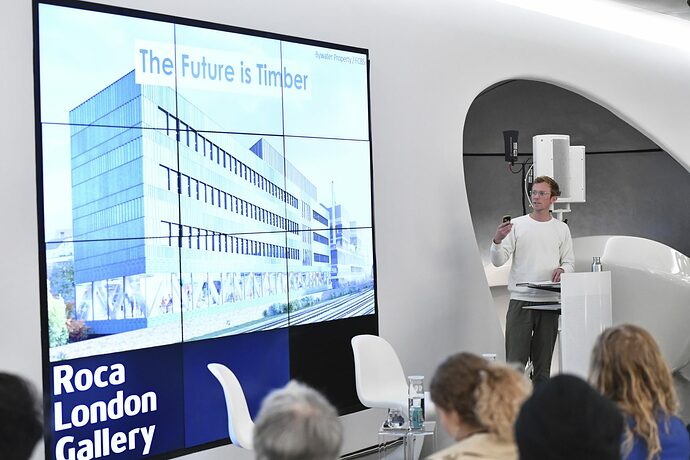 Built by Nature's Joe Giddings spoke about the importance of timber in tackling the climate crisis, its use in adding extra floors to existing buildings, and how fire and insurance issues are being tackled. Phototography Theo Wood
Embodied carbon should be regulated to 'supercharge' the use of timber and other bio-based materials in the built environment, according to a leading advocate of building sustainability.
UK networks lead of Amsterdam-based Built by Nature and ACAN co-founder Joe Giddings was in discussion with the AJ's sustainability editor Hattie Hartman at an event, supported by Roca, at the Roca London Gallery.
And he addressed the provocative question of whether the climate crisis assailing the planet could be solved by building with timber.
'I think we all know, actually, the answer is: no, building with timber alone … is no silver bullet,' he said.' But it is an 'incredibly important' part of the solution.
Prompted by reading the Intergovernmental Panel on Climate Change's landmark report in 2018, Giddings joined an Extinction Rebellion protest on Waterloo Bridge.
'They turned the whole thing into a garden bridge – something that Thomas Heatherwick actually failed to do with £100 million,' he remarked.
It was this that prompted Giddings to co-found ACAN. One of the organisation's campaigns – to date unsuccessful – is to get embodied carbon into the building regulations.
Joe Giddings speaking to Bennetts Associates associate director Alison Darvill
Wanting to build on that work, Giddings left architectural practice to direct the Alliance for Sustainable Building Products (ASBP)'s Timber Accelerator Hub.
In 2022, he joined non-profit Built by Nature, where he coordinates its network of developers, designers, investors and insurers to encourage greater uptake of bio-renewable materials. 'It's really by this kind of multi-stakeholder collaboration that we think we can affect the system,' said Giddings, 'because they connect disparate parts of the system into a coordinated whole – into a movement.'
Citing the Science Based Targets Initiative sectoral target of 9.3kg of CO2 equivalent per square meter of new building for 2050, Giddings explained that the best buildings today contribute about 300-400 kg of CO2e/m2. 'So this is a 98 per cent reduction … over the next 27 years. That's where bio-based materials come in.'
Giddings' talk focused on timber but he noted that other established bio-based materials like hemp and innovative ideas such as cornspan made from agricultural waste have important roles to play too.
Ideally, the carbon in timber should be prevented from ever entering the atmosphere, said Giddings. In practice, after it has been used in a building, it can also often be reused structurally, then chipped and turned into OSB board, and ultimately pulped into paper and reused again. 'What we really need to avoid ever doing with it is burning it,' he said. Existing timber must also be used carefully, he added, prioritising the reuse of existing buildings wherever possible.
Tackling common myths about timber, Giddings said rising demand can be partially met by increasing domestic supply. He noted that a large proportion of timber in the UK is burned for energy, which he believes must stop. 'What we need to do is to actively coordinate this, put policy in place and increase the size of our forests.'
Joe Giddings with AJ sustainability editor Hattie Hartman
This shift can happen quickly, said Giddings. He pointed to successful efforts in continental Europe to increase forest cover, largely due to effective control, protection and certification through organisations such as the Forest Stewardship Council (FSC) and the Programme for the Endorsement of Forest Certification (PEFC). This has come with a rise in sawmills and sawing capacity. 'So we have more forest, but we also have more timber.'
Wood can also be used to retrofit additional floor space because it is lightweight; Amin Taha's overhaul of an office block in Clerkenwell which added two additional wood storeys is one recent example. 'There's loads of this going on now in London,' said Giddings. Built by Nature recently funded engineer Whitby Wood to build a tool enabling investors, asset owners, cities and others to assess how many wood floors could be built on top of existing buildings.
Another question Giddings is regularly asked is where to source the most sustainable timber.
He said there is potential to source locally in the UK but it can be difficult and he recommends Timber Development UK as a good source of information.
The picture is more complicated for engineered materials since many factors contribute to carbon intensity, including the energy used to produce and transport a material. 'It is not really where you get it from geographically,' he said, 'but which producer you get it from.' When considering mass timber, he recommended asking for environmental product declarations and then specifying the low-carbon option.
Fire risk is another common concern. Giddings noted that, although UK regulations restrict what timber can be used for, it is possible to build a residential building so long as timber is not used in the external wall. How this can be done is set out in a new report, New Model Building, developed by Waugh Thistleton Architects, UCL, Buro Happold and Gardiner & Theobald and funded by Built by Nature.
Built by Nature is trying to tackle cost limitations too. Timber is often more expensive than other materials but, said Giddings, it can result in hidden savings. For example, a timber building may not need such significant foundations. And it can be pre-manufactured, speeding up on-site construction.
He also believes timber buildings can have a better value. 'It's not only because people will want to be in them; the carbon in the timber is going to become an asset that you can actually trade.'
Insurance is a potential pitfall, but Giddings said feedback from developers suggests it is getting easier to buy for very large timber buildings and more comparable in price to traditional structural materials. This has been supported by a Mass Timber Insurance Playbook developed by ASBP and Built by Nature.
Alongside all this work, Giddings is still waiting for embodied carbon to be regulated by the government, though he believes it will happen over the next decade. 'And when it is … I think it will supercharge the use of timber and other bio-based materials.'